Welcome to my Ford Pinto Rallye Home Page

This Web site features my 1971 Ford Pinto Rallye
History of My Car

Because cars in general are hobbies of mine, I currently own 3 cars. I have a 1999 Pontiac Firebird Formula, a 1973 Cadillac Eldorado and last but not least my favourite car a 1971 Pinto. On May 5th, 1971, my sister purchased the car for (2450.75) for my Dad . I was 8 years old when my Dad took me for a drive to the mall and when we were leaving the car wouldn't start. It eventually set on fire and the entire engine compartment melted. It only had 600 miles on it. Luckily for us it was still under warranty. Two weeks later, we received a letter from Ford saying that they have a recall on the car. There was something wrong with the wiring that was setting all the cars on fire. Too bad we ,didn't get the letter before the car set on fire.
Ever since I was tall enough to reach the pedals I was driving. When I was sixteen, my Dad gave me the car. I drove it for 5 years with the original 4 cylinder in it. It started to burn oil after 70,000 miles so I put a V6 in it. Now, I had some speed!
In 1985, I had the car completely painted and all the rust spots fixed. This time I painted it black instead of the Grabber Green it originally was. I drove it for another 4 years, until I purchased my 1988 Mustang GT convertible. I could have sold the car but it had too much sentimental value. It sat in the garage until 1996 when I decided to completely restore it and put in a massive 289 V8 in it. It took me over six months to do all the modifications. I might have driven it 600 miles that year. I was scared someone would steal it or it would get into an accident. So in 1998, I spent even more money to connect the frame, rebuild the transmission and rear end and put it in it's first indoor car show.
I was so proud to see my little car in a show where the cars were worth tens of thousands of dollars where car was appraised at (6,000) lucky me. There were over 500 cars in that show but mine was the only pinto! I came runner up in my class (Ford street machine) and won a trophy and was presented the Dizzie Dean Dream come true award! That was the icing on the cake!
Noboby loves Pinto's more than me. When I die I want to be buried in the car. Place my trophies on the dashboard, case of beer in the trunk and AC/DC highway to hell in the cassette player.
My Pinto has been in the paper and will soon be in a movie.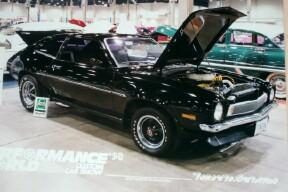 Car Shows
The above picture is the Performance World Car Show I entered in 1998!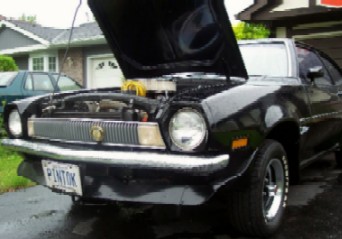 Pinto at Home

You can see the Rallye badge along with my hot pants kits in the picture above